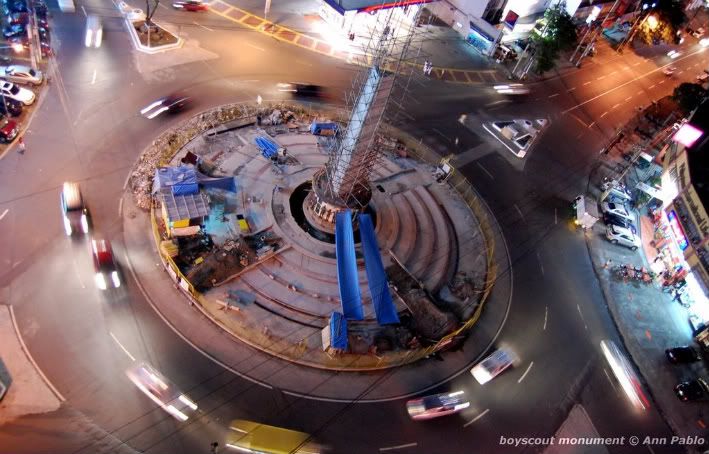 All along you're wondering "
Who the heck are these boy scouts and why do we have streets with their names?
" Well, first I think you should mind your manners; second (and as an answer to your question) they were our delegates to the 11
th
World Jamboree in Marathon, Greece. There were 24 of them - Filipino
boy scouts
and scout officials. They, unfortunately, died in a plane crash in Bombay, India en route to the jamboree on July 23, 1963. In their memory, the City Council of Quezon City renamed the streets in the
Kamuning
and
Roxas
Districts after them on April 24, 1964 . Twenty five years after the tragedy, former President (then Chief Scout)
Corazon
C. Aquino declared July 28 of every year as Scout Memorial Day honoring not only the ill-fated Jamboree heroes but all the other Scouts and Scouters who died on the line of duty.
With just a week left, the monument workers have serious work to finish. I am posting this photo both as a tribute to the scouts but also as a little reminder that the construction people need to hurry up.
---
The boy scouts who died in the plane crash: from the Manila BS Council: Ramon V.

Albano

, Henry

Chuatoco

, Jose Antonio Delgado, Pedro

Gandia

, Wilfredo Santiago and

Ascario

Tuason

, Jr. From the Quezon City BS Council: Roberto Castro, Romeo R.

Rallos

and Rogelio

Ybardolaza

. Felix

Fuentebella

, Jr., represented both the Manila and Goa,

Camarines

Sur

BS Councils. The rest of the scouts: Victor

de

Guia

, Jr. (Baguio City), Antonio

Limbaga

(

Zamboanga

City), Roberto

Lozano

(

Dagupan

City), Paulo

Madriñan

(

Pasay

City), Jose

Fermin

Magbanua

(Negros Oriental),

Filamor

Reyes and Antonio

Torillo

(

Cavite

) and

Benecio

Tobias (

Tarlac

). Visit their website for more information.